and we're back with another round-up of culinary delights - this time all appetizers that are sure to get your mouths watering. my disclaimer about food photography still stands -- these photos are linked directly back to the blogs from whence they came! i'm also linking up to Taste and Tell's weekly

round up

!
here are some of our favourites:
s

picy buffalo chicken beer dip
from plain chicken
image credit from Plain Chicken
i've probably made this recipe ten times, between choir parties and football games. it's so quick and easy, and absolutely delicious! if i have leftover cooked or rotisserie chicken, i prefer to use that over the canned version. highly recommend!
s

even layer salad
from allrecipes.com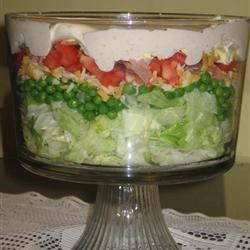 image credit from

a

llrecipes.com
so if you can get over the fact that it's 2013 and not 1982, this salad will knock your socks off. there's something about the crunch of the lettuce, the sweetness of the peas and tang of the cheese and dressing that makes it addicting. plus it looks fantastic on a buffet table. (i have to admit, for once i could probably have managed to take a more flattering photo than the one attached...)

image credit from paula deen

oh my land. first of all, the fact that these contain spinach practically makes them a health food. second of all, i took these to an extended family gathering and was a little concerned about how they'd go over (mushrooms? spinach? even throwing Paula Deen's name out there might not appease this largely meat-and-potatoes crowd). i shouldn't have worried. they're perfectly cheesy and delicious, just as you'd expect from Ms. Paula.
boursin sausage balls
from

p

lain chicken
image credit from
Plain Chicken
these are basically meatballs on crack. if you're frantically trying to prepare several other dishes all at the same time, they're a lifesaver: simply dump all the ingredients in the KitchenAid and let it run with the paddle attachment on medium until well combined. then form into balls and bake, served with hot marinara sauce. i recommend placing them on a wire rack on top of a cookie sheet so that the grease drains out and they hold their shape. i've also frozen them on the cookie sheet the night before a party, so then they only have to sit on the counter for a while to defrost and then pop in the oven before guests arrive. their only downfall: there are never any leftovers!
b

acon ranch potato salad
from

c

onfections of a foodie bride
image credit from

c

onfections of a foodie bride
such a refreshing alternative to traditional potato salad! i like to make this a day in advance and make an extra batch of dressing to toss in just before serving. the colors pop and, well, there can really never be too much bacon.
mm mm good! see you next week!