we're taking a hiatus from the crockpot meals this week to focus on some meat-tastic dinners that satisfy nick's tastebuds and appeal to my cravings for protein, protein, protein! they're not diet friendly, but balanced with lighter meals throughout the week, i think they're worth the splurge. as always, remember that these photos are linked directly back to the blogs from whence they came. i'm also linking up to Taste and Tell's weekly round up!
meatball sub casserole
i've made several different meatball sub casseroles, some of which called for frozen meatballs. just, NO. these meatballs are so simple to make and so delicious. i confess to eating one right out of the oven before the rest get incorporated into the casserole. this dish is even better the next day when the sauce and cheese has had a change to soak into the crusty bread. (sadly, just looking at that marinara sauce gives me a little reflux... oh baby, why must you hate tomatoes???)
chorizo and italian sausage stuffed shells
from picky palate
image credit from picky palate
comfort food at its finest. the original recipe makes enough to fill two 9x13 pans, so i usually cut it in half (and if i'm doing all my shopping at my fave bottom dollar, which doesn't stock chorizo, i just use italian sausage). however, with sweet pea on the way, i'm sure i'll be making the full batch and freezing one pan for later! when i'm in the midst of stuffing each shell one by one, i sometimes wonder whether it's worth it. and the answer is, yes.
cuban style pulled pork sliders
the best cuban sandwich i ever had was in the little port of St. Martin in the US Virgin Islands. the spicy sweetness of crispy ham dancing with the bright tang of a pickle and a squeeze of lime juice and washed down with a frosty local beer after a long day of sun-worshiping just sums up the bliss of vacation. so these are a welcome treat during the long winter months. as cute as the sliders are, i usually just serve them on regular-size buns (more husband-friendly).
image credit from tastespotting.com
i've been sitting here for a few minutes thinking about how to even describe this recipe. how do you top the unique flavors of french onion soup? if you said, "add more buttery toasted bread" -- well, then, you'd be right. it's so unbelievably scrumptious that you don't even care that strings of gooey melted cheese and slippery bits of caramelized onions are all over your hands and face. because more is always better, i serve this with a traditional french onion soup base (minus the cheese & bread) for dipping. for someone who thinks plain old grilled cheese is still pretty darn good, this sandwich is a revelation.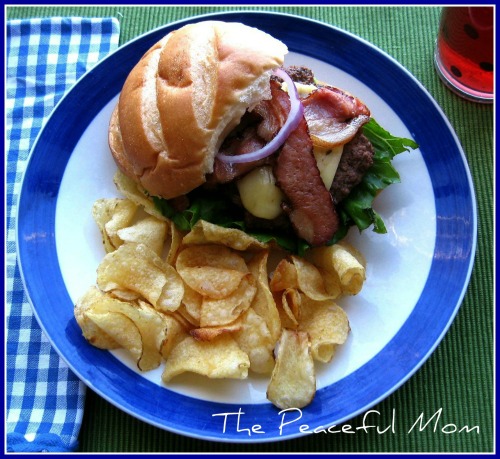 my only beef with these burgers (har har) is that sometimes the bbq sauce seems to make the meat mixture too moist so it doesn't hold together well on a grill pan (and might fall through the cracks entirely on a real grill). adding a quarter cup of crushed saltines or breadcrumbs saves the day, and this is definitely not a meal to miss. this recipe also has influenced how i make all my burgers from now on: that tablespoon of steak seasoning adds the perfect flair!
now that i've made myself hungry by looking at all these photos, it's time to head off to pure barre for some much needed toning!