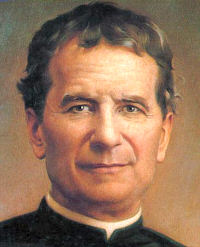 well, we did it! we celebrated our very first saint day last night, and it was so simple and easy. as Greta gets older, i'd like to incorporate more crafts and activities for her, but even on the most chaotic of days in the future, we can manage to pull this off! i feel a little silly even writing about this, but for my own reference (and for any other souls equally new to living the liturgical year): here goes.
last week when i was planning menus and making my grocery list, i cross-checked the list of feasts and saint days at Catholic Culture (which has become my go-to source of information). i have a running Google document and a Pinterest board to compile information and ideas for each saint day, and i decided that for this week, we'd mark January 31 (St. John Bosco), February 2 (The Feast of the Presentation of Our Lord / Candlemas), and February 3 (St. Blaise). so my menu planning will reflect food from each respective saint's country of origin, or in the case of Candlemas, special "feast-ly" fare.
our menu for the Memorial of St. John Bosco was meatball sub casserole and steamed broccoli. we kept to the Italian theme by eating at Buca di Beppo for lunch as well!
Meatball Sub Casserole
recipe from Taste of Home, April/May 2010 issue
TOTAL TIME:

Prep: 40 min. Bake: 30 min.
YIELD:

6 servings
Ingredients
1/3 cup chopped green onions

1/4 cup seasoned bread crumbs

3 tablespoons grated Parmesan cheese

1 pound ground beef

1 loaf (1 pound) Italian bread, cut into 1-inch slices

1 package (8 ounces) cream cheese, softened

1/2 cup mayonnaise

1 teaspoon Italian seasoning

1/4 teaspoon pepper

2 cups (8 ounces) shredded part-skim mozzarella cheese

3-1/2 cups marinara

1 cup water

2 garlic cloves, minced
Directions
1. In a large

bowl, combine the onions, bread crumbs and Parmesan cheese. Crumble beef over mixture and mix well. Shape into 1-in. balls; place on a greased rack in a shallow baking pan. Bake at 400° for 15-20 minutes or until no longer pink.
2. Meanwhile,
arrange bread in a single layer in an ungreased 13-in. x 9-in. baking dish (all of the bread might not be used). Combine the cream cheese, mayonnaise, Italian seasoning and pepper; spread over the bread. Sprinkle with 1/2 cup mozzarella.
3. Combine
the spaghetti sauce, water and garlic; add meatballs. Pour over cheese mixture; sprinkle with remaining mozzarella. Bake, uncovered, at 350° for 30 minutes or until heated through.
before we ate, Nick and i took turns reading aloud a brief synopsis of Don Bosco's life, which can be found at Catholic Culture. he is the patron saint of

Christian apprentices, editors, publishers,

schoolchildren

,

young people

,

magicians

, and juvenile delinquents! then

we prayed the Collect for the day:
O God, who raised up the Priest Saint John Bosco as a father and teacher of the young, grant we pray, that, aflame with the same fire of love, we may seek out souls and serve you alone. Through our Lord Jesus Christ, your Son, who lives and reigns with you in the unity of the Holy Spirit, one God, for ever and ever.
and ... that was that! almost embarrassingly easy, but most importantly, it's do-able.
my favourite online resources include:
- Catholic Culture for concise information about each saint's life, the daily collect, and practical ideas for how to celebrate each saint
- Catholic Cuisine
- Two O's + more
- Catholic All Year
- Carrots for Michaelmas
- Surviving Our Blessings